Northgard Conquest is a standalone game-mode that can be played solo or co-op, with a succession of various challenges offering a gaming expansion of +100 hours. The difficulty of the co-op mode will be based on strong collaboration between players.

Forget the lore, choose your clan and let's fight!
Northgard Conquest offers you the possibility to choose your own experience when facing the harsh challenges of Northgard Conquest.
TAKE THE THRONE ON YOUR OWN



If you want to challenge yourself and personalise your Clan with unique bonuses whilst counting on your own skills and decisions, then choose the Northgard Conquest solo-mode, defeat the other clans and claim the Throne.
Believe in your strengths, establish the best strategy, exploit resources in an optimal way and build the most formidable clans to endure Northgard's relentless hostility!
Another addition is the ability to share your adventure and overcome the harsh obstacles with the power of collaboration in the new Northgard Conquest co-op mode.
Northgard Conquest encourages teams to experiment and discover every combo available in this game-mode! But beware, Northgard Conquest is a cunning opponent! Having two in a team means double power, double bonuses and of course, double the problems! But nothing is impossible for fearless vikings.
Plan a global strategy, divide the tasks, collaborate, and master the continent together!
Northgard Conquest introduces a brand new way to present and organize all the different challenges Northgard Conquest offers: The Conquest Map.
The Conquest Map is formed by several challenges, 3 of which are specific to each Clan (and adapted to their specialties) which remain constant. The other challenges are pulled from a random pool of challenges, which means that if you restart a Conquest with the same Clan, you will get a different map with different challenges! As soon as you succeed in one of the 3 specific challenges, several different paths are unlocked and the choice of which path you take is up to you.
CHALLENGES
Conquest challenges are completely independent between themselves and will challenge you with various specific victory conditions and rules for each challenges. Here's some examples:
Too Many Wyverns
Victory Conditions:

Special Rules:

Lots of Wyverns are spotted, it's time for a hunt!

Town Halls are already protected by updgraded Watch Towers.
Race to Yggdrasil
Victory Conditions:

Find the legendary World Tree Yggdrasil, and be the first to conquer it.

Special Rules:

Yggdrasil is larger and cost twice the price to colonize.

There is more Fishes, Fertile Lands and Deer in the map.
Kobolds Infestation
Victory Conditions:

Gain enough territories and raise your Fame to obtain the title of King.

Special Rules:

Many Kobolds camp everywhere. Kobolds are more aggressive, respawn and expand quicker.

For each decolonized Kobolds territory, earn 10 Fame .
As you progress through your Conquest, you'll get to choose specific favors to power up your clan and help you win the next challenge (applicable only to the Conquest game mode).

You can obtain these synergizing favors at the start of a Conquest!

And if you succeed in beating the entire Conquest of a Clan, you'll get a marvelous Town Hall skin related to it! You'll be able to use these skins in all modes: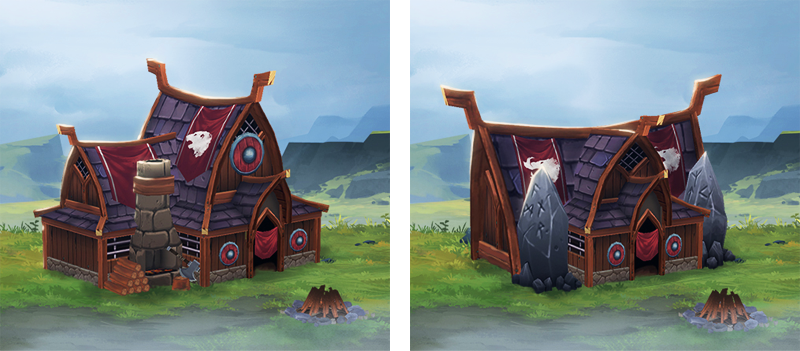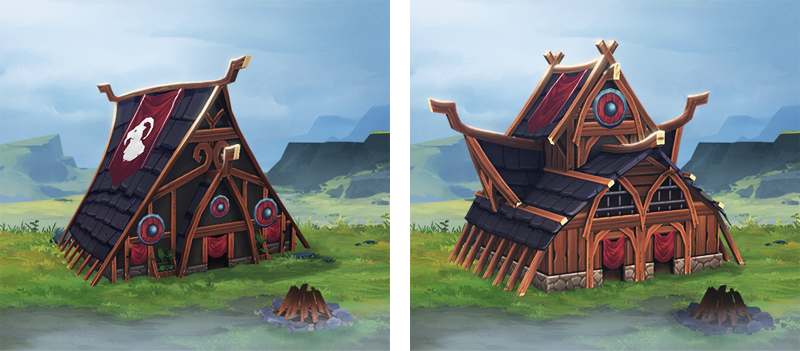 Clan of the Dragon / Raven
Clan of the Snake / Kraken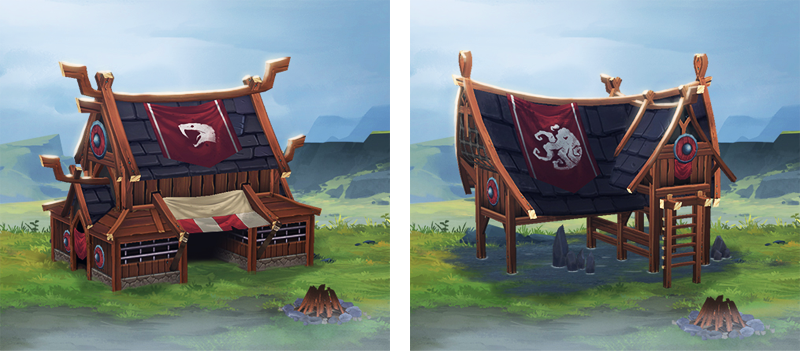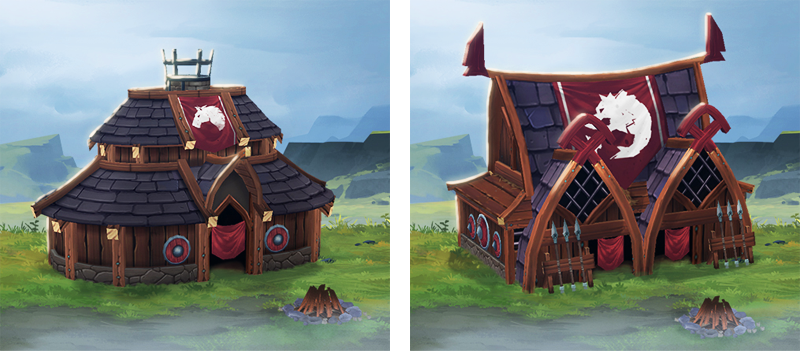 SPECIAL ELEMENTS AND UNITS



As the biggest major update yet, Northgard Conquest also includes a variety of specific elements as special units, buildings, resources, events or maps. During challenges, you'll need to exploit them as best you can to succeed!
SPECIAL UNITS

Valdemar The Cursed
Valdemar was a Legendary King who died bringing battle to Helheim. He now wanders Northgard's land to avoid death and reach Valhalla. He is usually surrounded by a group of Dark Vaettir who will not let you reach their King.
Dark Vaettir
Unholy Ice Spirits that should not live on this side of Bifrost.
Undead Wyvern
A Frightening Beast, unnaturally turned into something even more terrifying.
SPECIAL RESOURCES

Gemstones
Valued resources coveted by overseas merchants.
SPECIAL BUILDINGS

Gates of Niflheim
Ancient and mystic gates that bring Death from another time in Northgard every Winter…
Pillars of Glory
An ancient legacy for famous Kings. Assign Heralds to Pillars of Glory to earn Fame
for your Clan.
SPECIAL EVENTS

Supply From Homeland
Boats
coming from Homeland will frequently bring you new Villagers to reinforce your Clan.
Mercenary Raid
A mercenary ship
could been spotted near your coasts. You must prepare!
Curse
Some of your units will be infected by a strange disease...
Frozen Attack
Death is coming...
Sons of Hymr
Some strange gates are glowing, prepare to fend off the invaders!
SPECIAL MAPS

Northgard Conquest introduces new specific map configurations that you'll be able to explore during challenges, like The Inner Sea.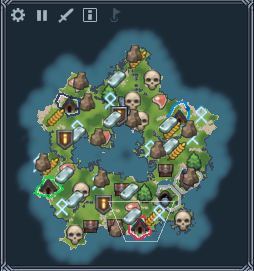 This brand new map configuration will host challenges that encourage you to establish the best strategy and exploit all the available resources to succeed and conquer.
In addition to the basic difficulty modes (Easy / Normal / Hard), Northgard Conquest has introduced most challenging difficulty yet: Extreme Mode. This difficulty will do everything in its power to stop you from reaching the Throne and will make Northgard an incredibly hostile continent, more so than it ever was. But if this difficulty isn't challenging enough for you... maybe we create an even more difficult one that will make Northgard a true nightmare for you!
Bear Conqueror
Complete a Conquest with the Clan of the Bear.
Boar Conqueror
Complete a Conquest with the Clan of the Boar.
Dragonic Conqueror
Complete a Conquest with the Clan of the Dragon.
Goat Conqueror
Complete a Conquest with the Clan of the Goat.
Horse Conqueror
Complete a Conquest with the Clan of the Horse.
Kraken Conqueror
Complete a Conquest with the Clan of the Kraken.
Raven Conqueror
Complete a Conquest with the Clan of the Raven.
Snake Conqueror
Complete a Conquest with the Clan of the Snake.
Stag Conqueror
Complete a Conquest with the Clan of the Stag.
Wolf Conqueror
Complete a Conquest with the Clan of the Wolf.
Domination
Complete at least 6 Conquests with different Clans.
Perfectionist
Complete a Conquest by winning all challenges.
I came, I saw, I conquered.
Win each of the 30 different challenges at least once.
BALANCING AND IMPROVEMENTS



 New in-game display system which allows you to easily see other players characteristics.

Blizzard, Rats Infestation, Earthquake, Draugr Invasion and Frozen Sea are now announced 3 months in advance instead of 6.

Changes in the ELO calculation to greatly discourage wintrading.

 Wisdom Victory: No need for active units anymore.

 Great Trade Routes will now be momentarily paused while the lighthouse is burning.

 All events get their own icons in the calendar.

 Kobolds power decreased a bit.
 Fixed settings defaulting to french after each update.

 Fixed an unlimited resource with multiple Trade Routes to exploit.

 Fixed the Hightide FX not visible for the clients in multiplayer.

 Fixed the unlocked tech count required for the blessings in campaign mode. The counter started at -1.

 Typos and small stability fixes.

 Fixed the Stone and Iron exchange rate with the Raven's homeland trade.

 Fixed the display of a player's rank history in the leaderboard.

 Fixed an old error in the ELO calculation. Two players of equivalent ranks should win/lose an equivalent number of points. Defeat should not have the player lose four times what the winner earned.

 Fixed a bug that allowed militia to leave territory.

 Scabbard of Gram lag improvements.

 Fixed an issue that didn't allow kraken fishermen to fish on coasts.

 Near the Sea Spirit: Totems were counted as buildings, while they were not supposed to.

There were some broken achievements, they're now fixed.